When you dispose damaged, Beyond Economical Repair (BER), and End-of-Life (EoL) IT Assets such as desktop computers, laptops or mobile devices, are you sure that...


Nothing sensitive was left in that computer or storage media?
Disposal or re-use of such storage media will not cause data privacyproblems?

Simply deleting or formatting the Operating System is insufficient to erase all data stored in the devices. Therefore, LTG's One-Stop ITAM solution provides you most secure way for erasing your data in storage devices.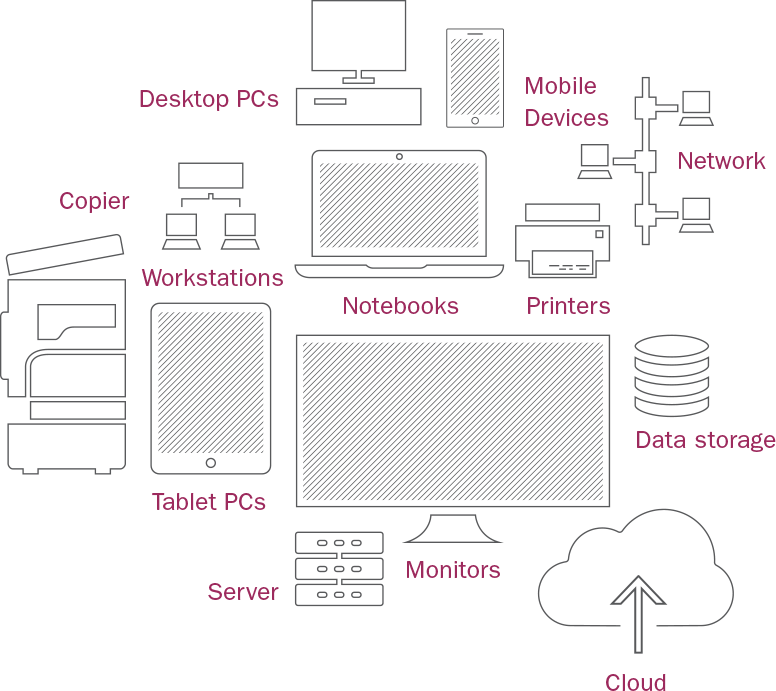 Data Sanitization of Whole Devices
Our overwriting procedures can permanently remove data of used whole devices/equipment, ensuring 100% data security by removing all the sensitive customer/business data before you dispose or transfer a device/equipment from one user to another.


Desktop
Notebook
Server
Workstation
Mobile Devices
Data Sanitization of Electronic Storage Devices
Our wiping rack system can efficiently support large amount of single electronic storage devices from ODM/OEM, public sector, finance group, etc.
Single Storage Disk
PATA Hard drive
SATA Hard drive
SCSI hard drives (50pin, 68pin, SCA, SAS Hard Drive)
USB Removable Media
Solid-State Disks in ATA and NVMe
SATA SSD
SAS SSD
M2 SSD
MSATA SSD
U2 SSD
PCIe SSD
Degaussing
Data in magnetic media can be efficiently erased by degaussing, a demagnetizing process to erase a hard drive or tape. Using the right degausser will guarantee that your information is no longer retrievable. LTG is here to provide you the customized solution that fit your needs.
Magnetic Disks
Floppies
ATA Hard Drives
SCSI Hard Drive Drives
USB Removable Media (Pen Drives, Thumb Drives, Flash Drives, Memory Sticks) with Hard Drives
Zip Disks
Magnetic Tapes
Reel and Cassette
Format Magnetic Tapes
Memory
Magnetic Bubble Memory
Magnetic Core Memory
Magnetic Cards
Magnetic Cards
Physical Destruction
LTG is capable to provide secure destruction service for any devices/asset upon customers' request. The devices/assets are shredded into tiny pieces by mechanical shredding, drilling and hammering, ensuring no data is retrievable after processing. Here's an overview of devices/assets that commonly require complete destruction:


Fax Machines
Copy Machines
Printers
Routers
Paper / Documents
Microfirms
HDD/ SDD
Magnetic disks/tapes/memory/cards
Compact disks (CD, CD-RW, CD-R, CD-ROM)
Optical disks (DVD)
Magneto-optic (MO) disks